Analytics
You easily can integrate Google Analytics with your website. Complete the integration steps at Google and then copy your Google Analytics ID into the field provided. You can sign up here: https://analytics.google.com/analytics/web/provision/?authuser=0#provision/SignUp/

Disqus
You can sign up for Disqus and to enable comments on your site. Apply with Disqus here: https://disqus.com/profile/signup/

reCAPTCHA v2
Creating forms on your website allows visitors to your website to send you a message, but it has one drawback. Forms added to your website can be accessed by humans and non-humans. The non-human programs that automatically fill out forms and submit them create spam. You can eliminate most of the spam by adding "reCAPTCHA" to your website. reCAPTCHA will verify the submission process is done by a human and not an automated process. reCAPTCHA does a great job of eliminating most of these unwanted submissions. It will automatically add an "I'm Human" checkmark to each of your forms but it is not invasive to your visitors.
You can choose to integrate reCAPTCHA on your forms to help prevent spam submissions. It is easy to sign up for a free account, and the steps are simple to complete. When you have completed the integration with ReCaptcha, all of your public forms will contain the spam prevention check at the end of the form.
Note: reCAPTCHA is optional - BUT . . . 
If you choose to integrate reCAPTCHA on your website, you will get email containing the message from the form. You can then reply to the email.
If you opt NOT to integrate reCAPTCHA, you will receive an emailed notice that a form submission has been made. You will then need to go to forms and view the messages online. If you wish to respond, you will need to copy and paste the email address into your email processor as the Forms responses list is only a list. You cannot respond directly from the list.
Setup Instructions:
From the black admin bar on the left, click Settings > Integrations you can scroll down and see the reCaptcha area. The 'more info' link (top right of the reCAPTCHA section) will take you to the link below.
You can apply here: https://www.google.com/recaptcha/
Note: You will need a google email account so if you don't already have one, pause and go create one at:
https://support.google.com/mail/answer/56256?hl=en
1. On the reCAPTCHA site, click the "Admin Console" link at the top right of the screen.
2. Give your account a label. The name of your website works well. Note: because it is possible - though not probable - to set up multiple websites on the same account it is important to distinguish them from each other. 
3. Select the option: reCAPTCHA v2, and then select "I'm not a robot" Checkbox.
4. Domains: you will want to add all the domain names that are associated with your website. If you are not sure what domain names are associated with your website, you can go to your website, Settings, Domains and Email - there is a list of all associated domain names there.
Note: a domain name does not use http or www 
correct domain name: simpleupdates.com
incorrect domain name: www.simpleupdates.com
incorrect domain name: https://simpleupdates.com
5. Optional: If you'd like to add owners to this Label, add their email addresses.
6. Accept the reCAPTCHA Terms of service
7. Indicate whether or not you (and any other owners you've added) would like to get alerts.
8. Submit the form.
On screen you will see two alphanumeric gibberish keys - a Site Key and a Secret Key.
9. Copy and Paste these keys into the fields also named 'Site Key' and 'Secret Key' on the integrations page of your website.
10. Save the integrations page. (you may have to scroll down to see the save button on the bottom left.
When you have added these keys and saved the page all the forms your website has now and will create in the future, will be automatically protected with reCAPTCHA.
reCAPTCHA will stop the automated (non-human) filling out of your forms which is the most common reason for receiving email with content not relating to your website. Keep in mind that real people get paid to fill out these forms with advertising messages. Spam blockers do not stop real people.
Payment Processors
The SimpleUpdates CMS platform supports Stripe as our supported payment processor. We have selected Stripe because of its industry leadership, low fees, and ease of use. Creating a Stripe account is free and easy. There are no recurring monthly fees. You are only billed around 3% of sales as a transaction processing fee. You can setup your free account here: https://dashboard.stripe.com/register
The steps you will perform:
Create your stripe account
Verify your email address by clicking the link in an email that Stripe will send you
Fill out the Business Settings page. This will be how Stripe moves funds into your bank account.
Confirm your Business Settings.
Go to your website Integrations page, and in the Payment Processor section, click "Connect with Stripe" and follow the simple steps.
All set!
Zoom
The SimpleUpdates CMS platform supports integrating with Zoom to publish your Zoom meeting information directly on your website.
Installation
To give your website access to your Zoom account, go to Settings -> Integrations -> Zoom and click the "Add to Zoom" button.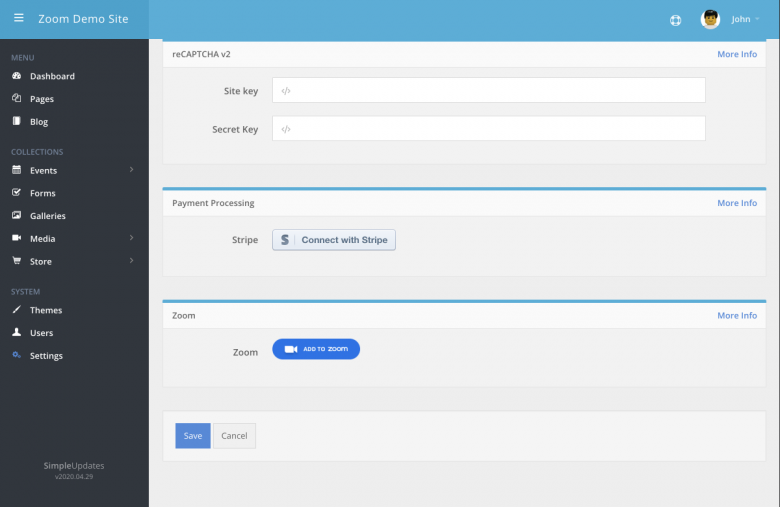 This will take you to Zoom's authentication site.
After you have authorized Zoom you will be returned to your site where you can see your Zoom account information.
Usage
Once the Zoom integration has been added a new "Zoom" block will be available under the "Media" block when editing a page.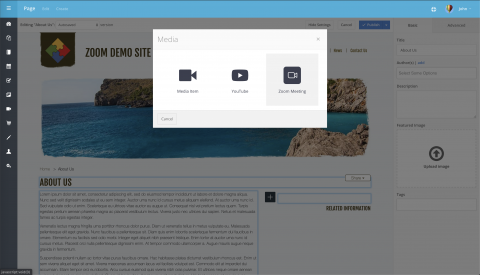 After you have selected the Zoom Meeting block you will be presented a list of your Zoom meeting to select from.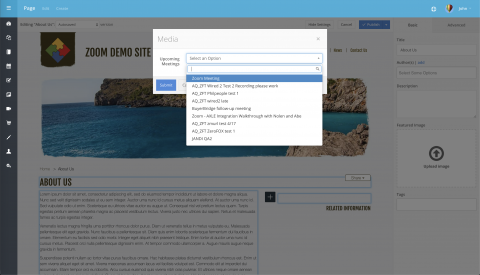 Select the meeting you want to display on your page and Submit. The meeting's information will be displayed on your page along with a button to join the meeting.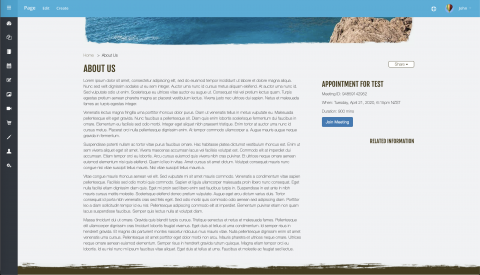 Uninstallation
To remove the Zoom integration, login to your Zoom account, navigate to the Zoom Marketplace, click Manage -> Installed Apps and uninstall the SimpleUpdates app. After you've removed the Zoom integration the Zoom blocks on your website will no longer be displayed publicly.