Forms allow you to get responses from the public. The image on the left shows form fields that can be added to a form. Analytics and export of form data is available. Cost items can be collected on form submit.
The Forms collection is a way to request information from  your website visitors. It contains options which allow you to add, view, edit, duplicate, and delete forms. You also have the capability of viewing and analyzing responses to forms. The Analyze option allows you to print the form responses you have collected so far.
Creating a form
You can create a form even before you make the page that particular form will be embedded on. But I find it easy to just make a page, add a form block, and then create the form fields I want to use in my form.
I suggest you fill out the form Settings as you begin creating the form so you won't forget to set them later.
Adding fields to a form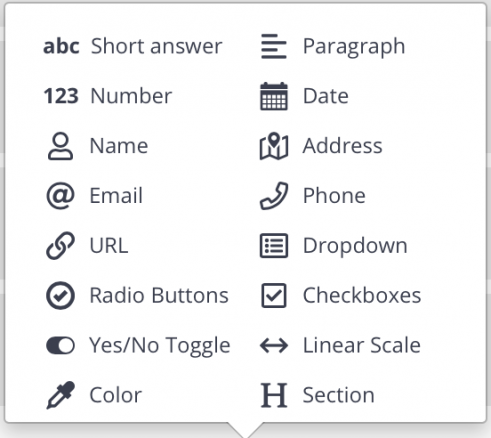 Adding and editing fields on the forms you create is simple. Just click the "plus" sign to add a field. 
The image here shows the available form fields. You can use any of these fields for a public form. Once you add a field, you will then see it in the preview window. When you have added the forms that you want to use, press "Save" to save them.
Notification for each form submission
All form submissions will go to the forms database, and you can always check form submissions there. (Forms -> View Responses).
You can also receive an email notifying you about each form submission. In the Form edit mode, go to the top right "Settings" tab. Here, you will be able to set the users who should get notifications, as shown in the video below.